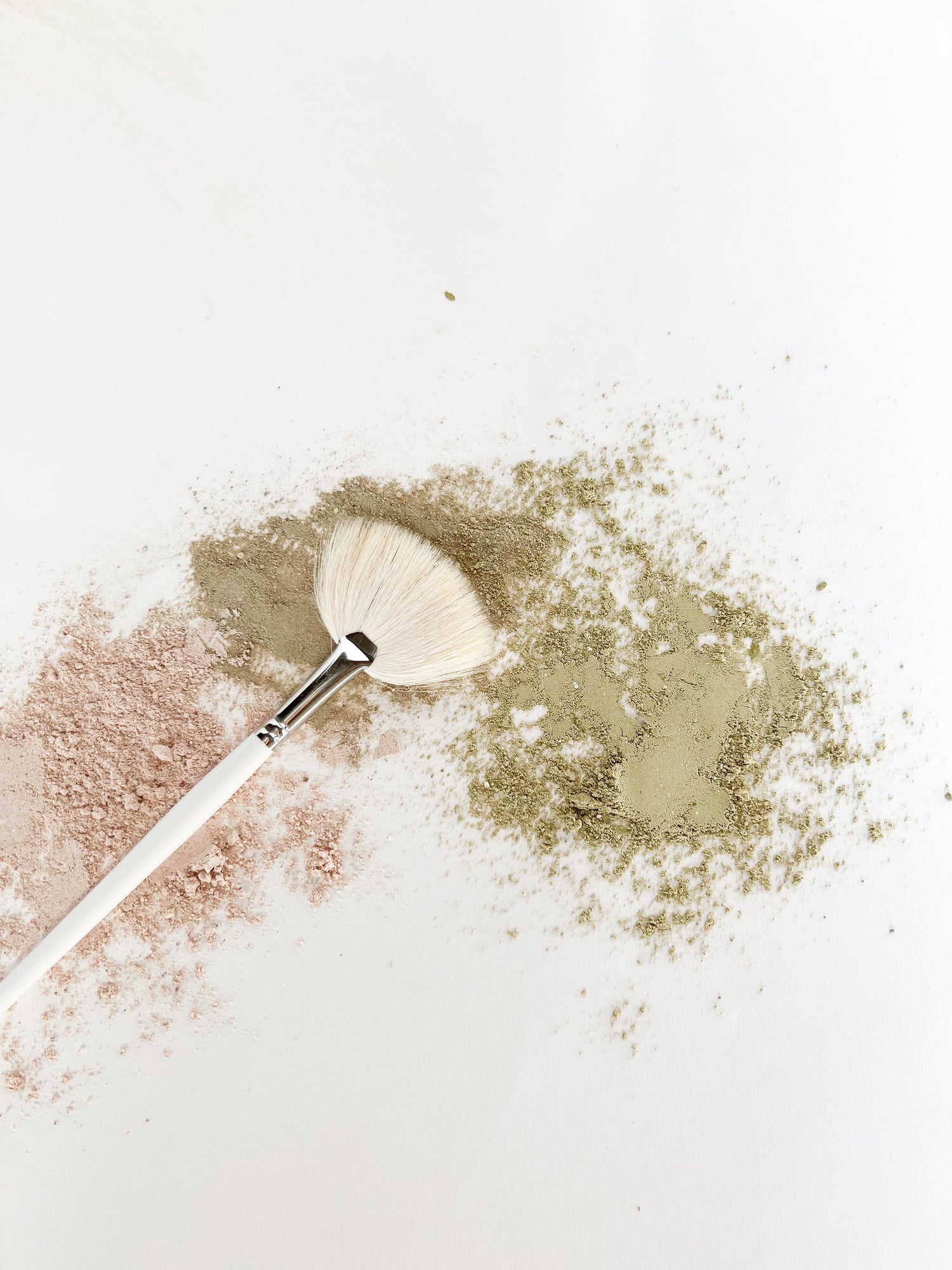 What "Clean" Means
We believe it is important to have a strong definition of what "clean" ingredients mean. To us it means NO PLASTICS! No petrochemicals, mineral oil, silicone, dimethicone, acrylates, polymers, and parabens. It also means NO sulfates, surfactants, phthalates, dyes, colorants, detergents, sodium benzoate, or any other unpronounceable chemicals.
WE LOVE OUR INGREDIENTS!
We lovingly refer to our ingredients as "botanical" because they are all found in nature, not invented in a chemical factory. We think they are pretty magnificent and want you to be able to read all about them.
You will find a definition for each ingredient and a list of each product they are used in.
INGREDIENTS DICTIONARY
INGREDIENTS A - C

Albumen

is rich in vitamins, amino acids, proteins, and minerals. Albumen tightens skin and minimizes fine lines and wrinkles and also heals acne by decongesting pores. (in Milk Flower Mask)

Allantoin

is a botanical extract from the comfrey plant and is used for its healing, soothing, and anti-irritating properties. It helps to heal wounds and skin irritations and stimulate growth of healthy tissue. It is also mildly astringent. (in Crème Nouveau, ReLeaf Balm, Essential Unscented Body Cream, and Crème Balance)

Almond Oil

is extracted from Almonds and is rich in proteins, glucosides, minerals, essential fatty acids, and vitamins, A, B1, B2, B6, and E. It is an excellent emollient for skin and helps balance moisture loss and the absorption of moisture. It relieves irritation, inflammation, and itching. It is also known to relieve muscle aches and tighten skin. (in Body Creams and Essential Body Oil)

Aloe

is extracted from a species of succulent and has been widely used to treat skin conditions ranging from burns and cuts to eczema and psoriasis. It is also known to be effective soothing and reducing inflammation, redness, itchiness, and rosacea. (in Body Creams and Crème Calm)

Andiroba Oil

is lightweight and penetrates the skin quickly. This oil is known for its exceptional anti-inflammatory properties. This oil is unique in its content of Limonoid and Triterpenes Compounds, which are known to promote circulation. Due to the exceptionally high levels of Essential Fatty Acids, this oil is highly effective in moisturizing and healing dry, cracked skin, eczema, psoriasis, and acne. It has been used for generations of Amazonian tribes to heal skin. (in ReLeaf Balm)

Apple Cider Vinegar

has anti-inflammatory properties and it consists of acetic acid and alpha hydroxy acid. This means apple cider vinegar can exfoliate the skin, absorb excess oils and unplug blocked pores. It also has the power to restore the proper pH levels to your skin.(in Lemon Lavender and Orange Grapefruit Cleansers, and Lemon Orange Grapefruit Sugar Polish)

Apple Pectin

is a type of soluble fiber. It comes from apples. Pectin is used to thicken our masks when water is added. (in Clay Enzyme Mask, Milk Flower Mask, and Coconut Matcha Mask)

Apricot Kernel Oil

is lightweight, but rich. It is high in both oleic (Omega 3) and linoleic (Omega 6) acids. It is known to be beneficial for mature, sensitive, dry, and/or inflamed skin. This oil is also rich in Vitamins A & E. (in Butter Balm and Sugar Balms, Crème Nouveau, ReLeaf Balm, and Essential Unscented Body Cream)

Argan Oil

comes from the fruit of the Argan Tree - a tree that has been documented to live up to 200 years in Morocco. Argan Oil is rich in Vitamin E, Polyphenols, Carotenes, Antioxidants, Fatty & Essential Fatty Acids and is recommended for wrinkle reduction, acne, psoriasis, eczema, sunburn, dry scalp. (in Crème Nouveau and ReLeaf Balm).

Arnica

is well known for its anti-inflammatory properties. It contains a wide array of inflammation-fighting plant compounds, such as sesquiterpene lactones, flavonoids, and phenolic acids, and also aids in circulation and healing bruises. (in Eye Crème)

Arrowroot

is a starch extracted from the rootstock of tropical plants. It acts as a silky smooth thickener. It has been suggested that the name comes from arrowroot's use in treating poison-arrow wounds, as it draws out the poison when applied to the site of the injury. (in Milk Flower Mask)

Babassu Oil

is a very similar texture and chemical composition to Coconut Oil - but does not have the 'coconutty' aroma. This oil comes from the seeds of the Babassu Palm trees that primarily grow in the Amazon. This oil is comprised of over 70% Fatty & Essential Fatty Acids and is recommended for both dry and oily skin types. (in Butter Balm and Sugar Balms, Crème Nouveau, Crème Calm, Eye Crème, Hand Crème, Lip Crème, and ReLeaf Balm.)

Baking Soda (Sodium Bicarbonate)

is an alkaline salt that helps to neutralize acids and balance pH. (in Essential Sea Salt Soak, Clay Enzyme Mask, Lavender Lemon Cleanser, Orange Grapefruit Cleanser, and Lemon Orange Grapefruit Sugar Polish)

Baobab Seed Oil

grows in India and Africa and the oil is pressed from the seeds. The oil is rich in Vitamin E, Vitamin A, Lipids, Antioxidants, and Sterols, and is recommended for elasticity, wrinkle reduction, in eczema, psoriasis, acne, and other skin conditions (in Creme Nouveau and ReLeaf Balm).

Beeswax

is a highly stable material that is a natural emulsifier and preservative. We use raw, unfiltered, bees wax local to San Diego to support local Beekeepers. (in Butter Balm, Sugar Balms, Crème Nouveau, ReLeaf Balm, Eye Crème, Hand Crème, and Lip Crème)

Bay Laurel Essential Oil

is highly regarded in aromatherapy for its positive effects on the lymphatic system. The oil contains elements of nearly all of the chemical groups found in essential oils, which results in a broad spectrum of positive effects. (in Essentials Body Oil and Sea Salt Soak)

 

Bentonite Clay

is very effective at absorbing excess oil, acne causing toxins, and poisons that get trapped under the skin. It is filled with minerals that are known to be very healing. (in Clay Enzyme Mask).

Bergamot Essential Oil (FCF)

is rejuvenating, anti-inflammatory, and anti-bacterial. It has a sweet, delicate scent with citrus and green top notes. It is cold pressed from the rind and is furanocoumarin free (FCF). (in Oil Nouveau)

Black Raspberry Seed Oil

absorbs quickly and is non-greasy and increases elasticity in maturing skin. It has naturally high concentrations of anti-oxidants Vitamin E and A, and Phytosterols that are known to help stimulate cell repair, encourage collagen growth, and protect against environmental aggressors. It has been suggested that it may also inhibit UV damage. (in Oil Nouveau and Crème Balance)

Black Currant Seed Oil

is an important oil for fighting the visual signs of aging and moisturizing the skin because of its high content of Gamma Linolenic Acid (GLA) - and Essential Fatty Acid that is not commonly found in many oils. This oil is recommended for dry, sensitive, and aging skin, as well as eczema and psoriasis. (in Crème Nouveau)

Black Cumin Seed Oil

is a unique oil due to its rich variety of Vitamins and Minerals such as: Folacin, Niacin, and A, B1, B2, B6, and C, calcium, copper, iron, magnesium, phosphorous, potassium, selenium, and zinc. This oil can be particularly effective in combating psoriasis as it has been found to boost the immune system. (In ReLeaf Balm)

Black Pepper Essential Oil

is commonly used to stimulate circulation and digestion. This oil increases warmth and stimulation. (in Essentials Body Oil and Sea Salt Soak)

Borage Seed Oil

is extracted from the seeds of the Borago plant that is native to the Mediterranean region. It is known to be one of the richest sources of gamma linolenic acid (GLA), containing 20-25% GLA. GLA is part of an essential fatty acid that the body needs in order to repair itself. The high proportion of GLA in this oil makes it exceptionally nourishing and it reinforces cell tissues and membranes which minimizes moisture loss and the breakdown of skin. It is a very restorative, anti-inflammatory, and it increases microcirculation. (in Crème Nouveau)

Buriti Fruit Oil

comes from the Moriche palm tree in the Amazon rainforest and is extracted from the pulp. It is very rich in Vitamin A and Beta-Carotene, Omega 3, 6, and Essential Fatty Acids. It is a potent anti-oxidant, reduces redness, softens fine lines and wrinkles, and restores skin elasticity. It is remarkably nourishing and strengthens cell membranes for longer cell life. It is also known to help lighten dark spots caused by sun exposure and protects against further photo-damage. (in Oil Nouveau)

Bromelain

is a collection of enzymes called proteases that naturally found in pineapple. Bromelain gently dissolves dead skin cells, making it an excellent choice for natural exfoliation. (in ReLeaf Balm and Clay Enzyme Mask)

Burdock Root Extract

is rich in EFA's and a gel-like substance that soothes and moisturizes skin. This extract may be useful for people with dry, sensitive skin, as well as those suffering from acne, rosacea, eczema, and other skin conditions. It contains Vitamins B & E, potassium, phosphorous, chromium, cobalt, iron, magnesium, silicon, and zinc. The root extract is known to help detoxify the skin and be anti-inflammatory, antifungal, and antibacterial. (in Crème Nouveau)

Camelia Oil

is known to be used by the Geishas to enhance and protect their beauty. This oil is pressed from the seeds of the tea plant and contains more nutritive properties than can be believed! It is rich in Fatty & EFA's, Vitamin E, Polyphenols, Antioxidants, and is recommended to improve moisture, radiance, and tone of the skin, reduce wrinkles, and balance skin pH. (in Creme Nouveau, Crème Calm, and Oil Cleanser).

Camu Camu Fruit

is the highest source of Vitamin C currently known - further, it has approximately 30x more Vitamin C, 10x more Iron, 3x as much Niacin, 2x as much Riboflavin, and 50% more Phosphorous than an Orange. The high Vitamin C Content makes it a powerful anti-oxidant that neutralizes free-radicals. Also, it delivers enzymes, bioflavonoids, and other components that are referred to as the "P factor" which makes the capillaries in the skin tougher and more durable. It is known to reduce the size of pores, promote elasticity, and is a natural healing agent for wounds and scars. (in Crème Nouveau and ReLeaf Balm)

Chamomile

is a flower that is known for its exceptional anti-inflammatory abilities. It is known to calm, soothe, and aid in healing. It calms stress and anxiety at a cellular level and studies have even shown it to have anti-cancer possibilities. (in Creme Nouveau, Creme Calm, and Milk Flower Mask)

Citronella Essential Oil

is known to tone the skin and is wildly refreshing. It is also antiseptic and can have a calming effect on the mind. (in Essentials Body Oil and Sea Salt Soak)

Cocoa Butter

is crushed from the cacao bean and has the rich aroma of dark chocolate. It has been used in Africa for centuries to soothe, heal, and moisturize skin that has been exposed to the dry environment and sun. Cocoa butter also helps to reduce the formation of stretchmarks during pregnancy. Cocoa butter contains a high proportion Stearic and Palmitic Acids, which are the most common Fatty Acids found in Nature, but typically found in animal fats in this proportion. (In Nourish Butter Balm)

Coconut Oil

is an edible oil that is extracted from the meat of matured coconuts. It is thought to moisturize skin and reduce protein loss in skin. This oil contains a large proportion of Lauric Acid (a component of a Triglyceride) which may be a contributing factor to it being helpful in healing acne. It is also an excellent base for soap because it retains more water than most other oils. (used in making soap).

Coconut Milk

is one of the only milks that is not derived from an animal source, but from the meat of young coconuts. This milk is rich in vitamins C, E, B1, B3, B5 and B6 as well as iron, selenium, calcium, iron, magnesium and phosphorus. Coconut milk is also known to be antibacterial, antifungal and antiviral. (in Coconut Matcha Mask)

Comfrey Extract

contains Allantoin and other compounds that make it a superb healing herb and is used externally to assist with numerous skin conditions such as eczema, psoriasis, sores, and wounds. It is effective at repairing tissue damage and speeds the healing process by stimulating the growth of new cells. (in Creme Nouveau, ReLeaf Balm, and Essential Unscented Body Cream)

Copaiba Balsam Resin

is an exceptionally rare and vital resin that is extracted from the Copaiba Balsam Tree that grown predominantly in Brazil's Amazon rainforest. What makes this resin so unique is the presence of multiple chemical compounds that are typically found one at a time in strong smelling and highly protective, anti-inflammatory, anti-bacterial, anti-fungal, and anti-germicidal Essential Oils such as clove, hemp, rosemary, & hops. This resin is therefore extremely powerful and recommended for treating acne, eczema, psoriasis. (in ReLeaf Balm)

Cranberry Seed Oil

is rich in Vitamins E and A, as well as Tocotrienols and Phytosterols. It also has a unique balance of Omega 3, 6, & 9 Essential Fatty Acids which is the only oil to have a natural ratio of the three. It is known to provide excellent protection against environmental stressors, and it improves elasticity, boosts collagen, firms skin, and reduces the appearance of age spots. (in Oil Nouveau)

Cranberry Extract

Contains powerful phytochemicals that act as antioxidants, including: vitamin C & vitamin E, these help boost immunity, lower blood sugar in people with diabetes and protect against cancer, heart disease, stomach ulcers, cavities and gum disease. (in Creme Nouveau)

Cucumber Extract & Hydrosol

is rich in antioxidants, promotes hydration, Reduces swelling and puffiness, Soothes irritation and Helps combat premature aging. (in Eye Crème and Cucumber Mist)

 
INGREDIENTS D - G
INGREDIENTS I - R
INGREDIENTS S - Z