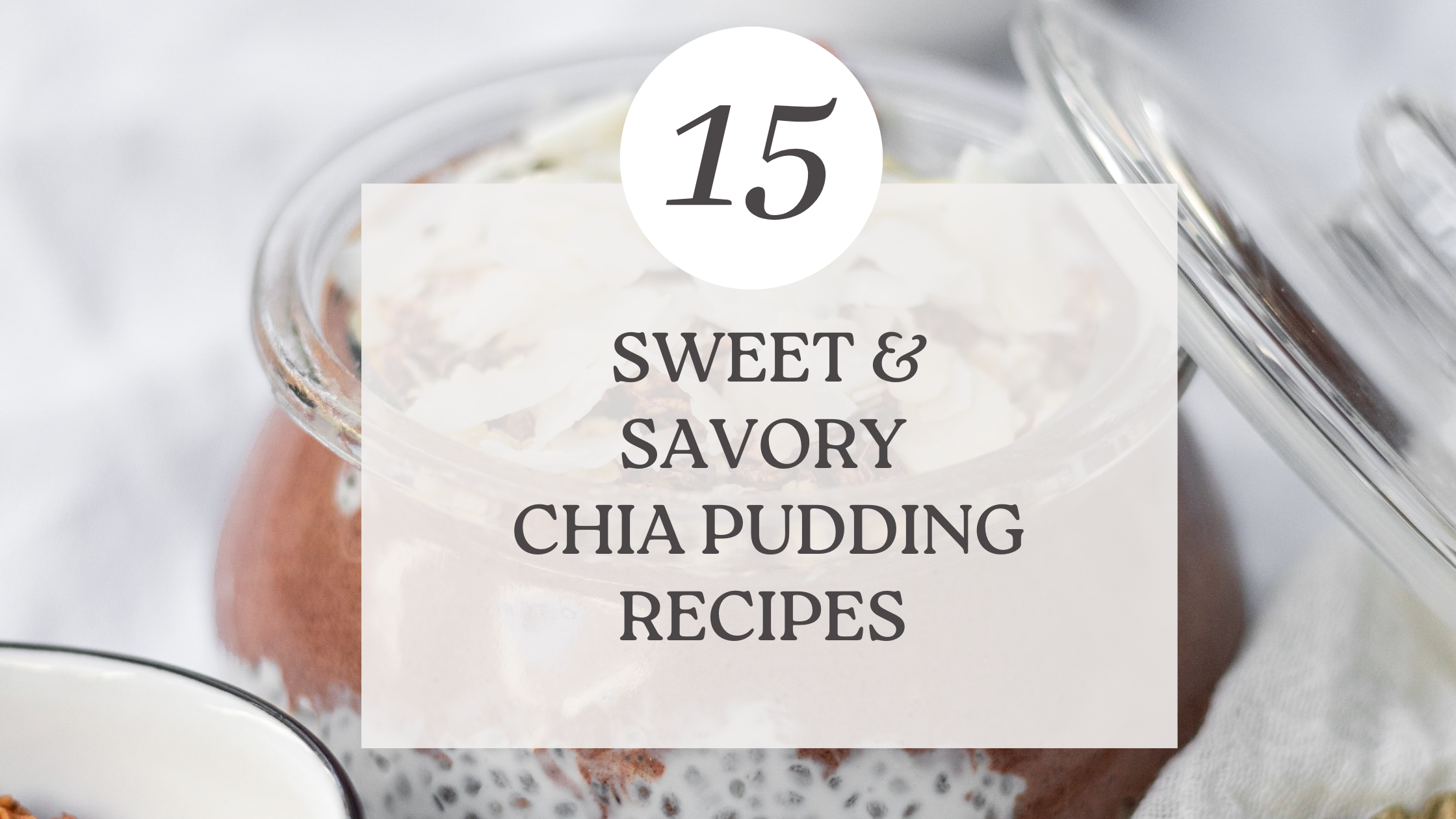 15 Sweet & Savory Chia Seed Pudding Recipes
Beaute Nouveau
We always have a batch of Chia Seed Pudding in our breakroom fridge for a morning or afternoon snack full of power-packed protein, fiber, and nutrients.  It's the perfect pick-me-up that only takes minutes to make!  Here are two of our favorites to have on hand, plus 13 other sweet and savory recipes from other bloggers we love! 
Chia Seeds are a Nutritional Powerhouse.
They're packed with antioxidants and fiber, and they're also a good source of omega-3 fatty acids. Not to mention, they have a high water content, which makes them a perfect substitute for eggs in baked goods. It's no wonder that these little sprout-looking seeds have been called "the miracle seeds." 
What are Chia Seeds?
Chia seeds are an amazing food option for a variety of recipes. They are a great source of protein, fiber, and omega-3 fatty acids, which are all great for our health. They are also a great source of antioxidants, which help protect our bodies from free radicals. When combined with water and other ingredients, they create a nutrient-packed pudding that is delicious and easy to make.
How to Use Chia Seeds?
Chia seeds are a great way to add both flavor and texture to your food. They are a great source of plant-based omega-3 fatty acids and a good source of fiber. They are also a good source of protein, magnesium, and calcium. They are not only nutritious, but they also add a nice crunch to your food. They can be used as a topping, they can be mixed into smoothies, or they can be used as a thickener for sauces. Chia seeds are a great way to add a healthy boost to your diet.
15 Delicious Chia Pudding Recipes
Chia seeds are an excellent food to add to your diet. Not only are they packed with healthy nutrients, but they are also very versatile. They can be used in a variety of dishes, from breakfast to dessert. Here are 15 of our favorite chia pudding recipes.
1. Cocoa Coconut Chia Seed Pudding with Ginger, Cardamom, and Pumpkin Spice
We love this pudding because it is sweet and spicy and chocccooooalllatey! Add 1/2 cup of Chia Seed to a bowl.  Add 2 tbsps of Pumpkin Spice Spice Mix, 1 tsp of Ground Ginger powder, 1 tsp of Cardamom powder, 1/3 cup of unsweetened Cocoa (or Cacao) powder, and 1 tbsp of Monkfruit Sugar (or preferred sugar alternative).  In a separate bowl, mix 1/2 cup of hot water with 1 cup of Coconut Milk (or preferred milk).  Add water and milk mixture to the Chia Seeds and mix thoroughly.  Once mixed, place pudding mixture in the refrigerator for a few hours or overnight.  Scoop into dishes to eat and top with raspberries, blueberries, and or raw walnut pieces. Enjoy!
2. Cocoa Coconut Chia Seed Pudding
We love this recipe because it is savory, hearty, and fulfilling!  This is a perfect recipe to prepare ahead at night to have ready to go in the morning.
Add 1/4 cup of Chia Seeds and 1 cup of Riced Cauliflower to a bowl.  Add 2 cups of hot water, leave out over night.  Make one serving size of Steel Cut Oats following the instructions on the oats and set aside for the morning.  In the morning, drain any left over water in the Chia Cauliflower mix and add the mix to the oats.  Heat up and combine over low heat on the stovetop.  Add some sea salt to taste and add some extra warmth with a sprinkle of coriander and cumin.  Top with microgreens and float a some vegetable stock (like milk onto sweet oatmeal!)  Add a soft boiled, or poached egg to the top if you want!
Other Favorite Chia Seed Pudding Recipes:
Conclusion
There are so many reasons to love chia pudding. It is a great snack or meal option. It is not only good for your health, but it also tastes so good. It is a great way to get your nutrition in on a regular basis, especially if you are trying to lose or maintain weight. There are many different types of chia pudding recipes. However, these 15 recipes are some of the best. They are sweet and savory, so you can get a bit of both in each bite. You can also add in some fruits or nuts to make it even more delicious. If you want to make a chia pudding with a specific ingredient, you can always change it up a bit. The possibilities are endless. 
Love clean eating? Love clean beauty?