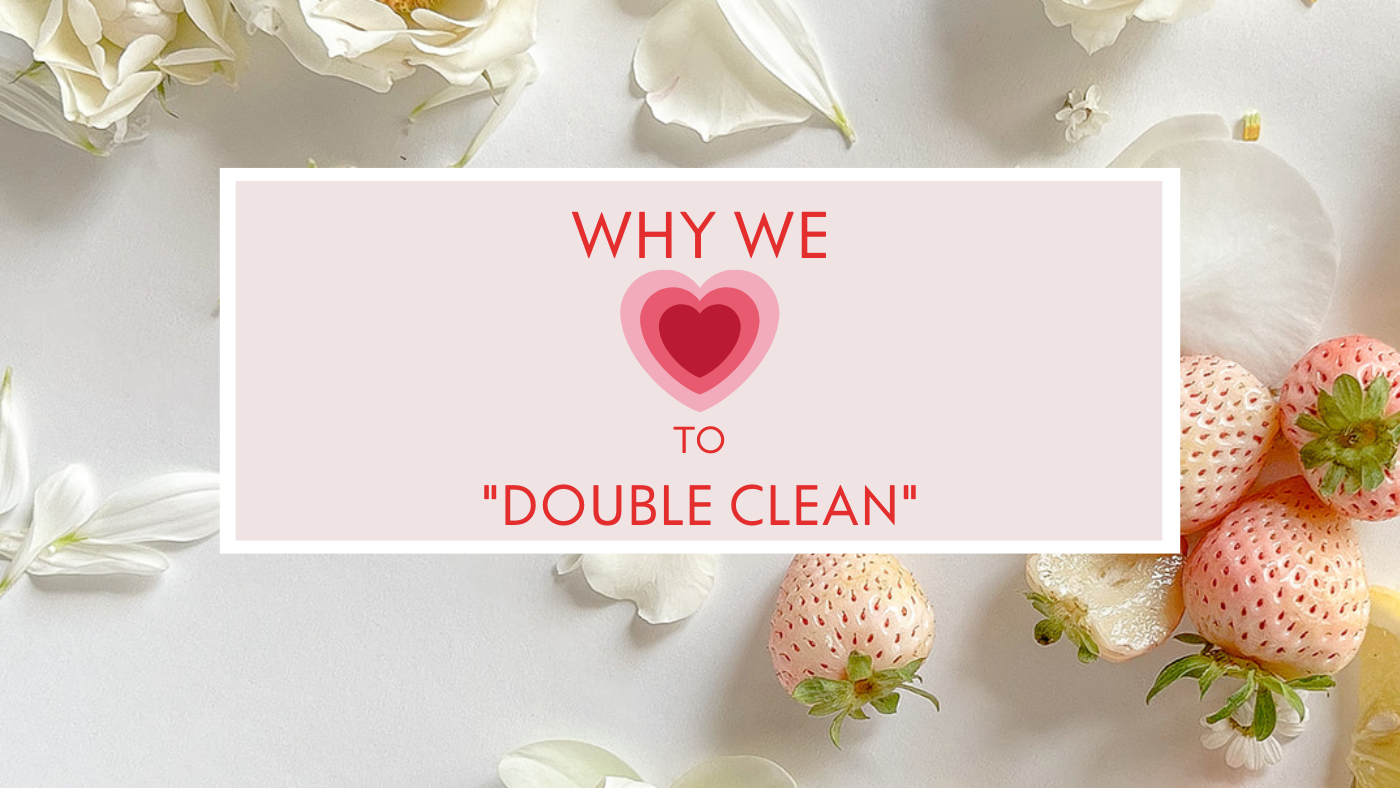 WHY WE 💗... DOUBLE CLEANSING???
Lacey Haegen
Treatment products like serums and creams typically reign supreme when we think about skin care. As consumers, we are much more likely to invest in serums and creams that tout anti-aging benefits or make claims of being patent-pending. We expect serums and creams to be the heavy hitters and we are likely to be sold multiple products like a day cream, night cream, neck cream, eye cream, vitamin C serum, retinol serum, antioxidant serums, etc.


That's all fine and dandy, but we want to know why we don't have the same devotion to our cleansing routines!? Why do we invest 💯s of💲in multiple treatment products, while we settle for a 1-step foaming cleanser at the drug store? Why do we not value cleansing in the same way?


We think that our cleansing routines are even MORE important than our treatment routines. Actually, we believe that how we cleanse and prepare our skin for our treatment products is
the most important part of skincare.
We prefer a "
double" facial cleansing
routine that intentionally removes eye & face makeup, dead skin, and the gunk that builds up throughout the day, and then a gentle refreshing clean. And, we prefer a nightly cleansing routine and a morning cleansing routine.
WHY? 7 Reasons:
Less clogged pores
Less texture on skin
Less

cake-iness

of makeup or powder
More radiance and glow
More absorption of serums & creams
Softer skin
More time focused on you


WHAT DOES IT MEAN TO DOUBLE CLEAN?
Double Cleansing is typically a nightly routine, where first we remove all eye AND face makeup with an oil cleansing process, followed by a gentle, refreshing Soap cleansing process. Even if you don't wear makeup, there is always a buildup of dead skin, dirt, and pollution that we would rather not sleep in. (If you accidentally slept in your makeup, this cleansing routine can be done in the morning 😉)
WHAT YOU WILL NEED
Cotton Pads
HOW TO DOUBLE CLEANSE
Place your Konjac Sponge in a bowl of room temperature water.
3-4 pumps of Yuzu Oil Cleanser to DRY fingertips.
Rub your fingertips together and then massage the oil onto DRY face and eyes for 1 minute. You will feel the oil begin to warm and the texture will become more liquid.
Wet 4 cotton pads with warm to hot water and squeeze them out.
Take 2 of the cotton pads and wipe your face and eyes to begin lifting the oil, dirt, makeup, etc. from your skin.
Repeat with the other 2 cotton pads to remove all residual.
Remove your Konjac Sponge from the bowl and squeeze it out.
Press the flat side of the sponge onto the flat side of the Shea Milk Bar soap and rub them together in circles to transfer the soap to the sponge.
Gently buff the flat side of the sponge onto your face in circular motions (avoid your eye area).
Rinse out the Konjac Sponge and use it to rinse your skin. Thoroughly rinse your skin and the sponge. Squeeze the sponge out and replace it in the bowl for the next evening.
Continue with your Facial Mist & Creme of choice.


MORNING REFRESH
CHOOSE 1 OF 2 OPTIONS:
(skip the Oil Cleanser)
Use your Konjac Sponge + Shea Milk Bar Cleanser

in the morning for a morning refresh.

Use your Konjac Sponge + your Cleanser of choice (either Honey Rosewood, Lemon Lavender, or Orange Grapefruit)

.
Can you tell we like a Konjac Sponge? 😂
Konjac Sponges are a simple game changer for cleansing! They are made from 100% natural konjac fiber from the konjac root (very similar to a potato). These sponges absorb a ton of water and reduce the amount of cleaner you need to use. They also balance the pH of the skin, reduce acne and breakouts, and gently exfoliate. They are extremely soft, and help give a much more even cleansing experience than using fingertips. They last for about 2-3 months.

VIDEO: HOW TO DOUBLE CLEANSE