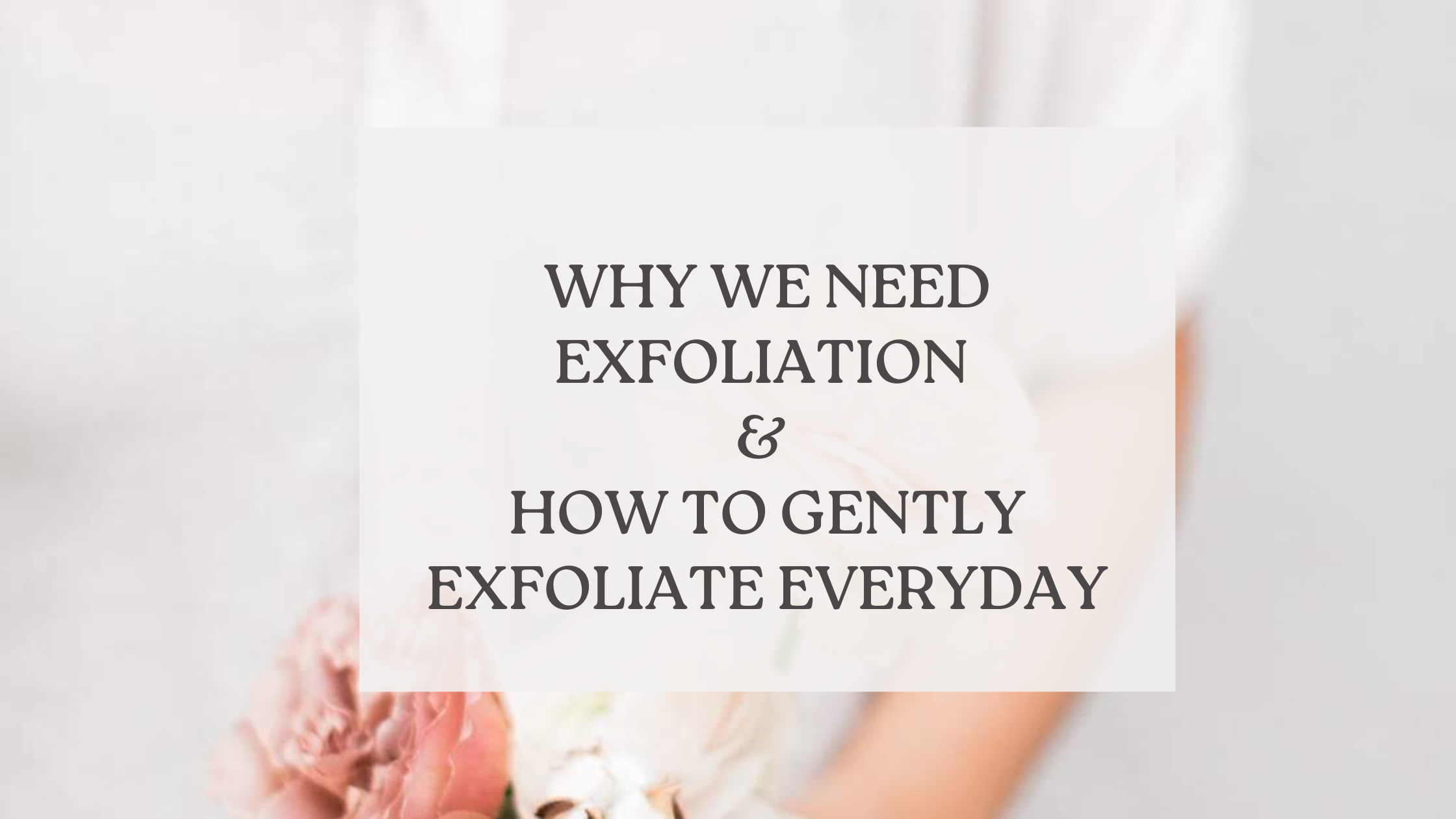 Why We Need Exfoliation & How to Gently Exfoliate Everyday
Beaute Nouveau
We believe that gentle daily exfoliation is a very important part of keeping our skin's youthful glow and antiaging resilience.  As we age, the production of skin cells slows and exfoliation acts as a gentle reminder to keep the cell turnover process going, and even to speed it up. As we age, the shedding of dead skin begins to slow and our natural oil production decreases as well.  All of this together, makes thicker layers of dead skin cells which can make skin feel rough, look dull, get clogged, and makeup look heavier and cakier.
The slowing of cell turnover and sloughing of dead skin, plus less oil production can be effectively increased with a key exfoliation products and techniques woven into your daily skin care routine.
1. What is Exfoliation?
Exfoliation can have two meanings. First, exfoliation is the natural process where skin sloughs off dead skin from its surface. Second, exfoliation can also refer to the process or method of removing dead skin cells from the surface of the skin physically or chemically. Physical exfoliants are products or tools that have granules or some way of scrubbing or scraping dead skin cells from skin.  Chemical exfoliants are products or solutions that dissolve skin cells from the surface of skin. 
2. Why Exfoliation is Important?
Exfoliation is important because it has an impact on its function, its glow, and its texture.  Too much dead skin can slow skin down, make it look dull, clog pores, create breakouts, and make skin feel rough.
Skin cells are born in the basal layer. Each day, these new cells travel upward towards the surface. As they travel towards the surface, they push the layers of cells that were born before them closer to the surface in a process called "keratinization". As we age, the production of skin cells slows and exfoliation acts as a gentle reminder to keep the cell turnover process going.
As we age, not only does the production of skin cells begin to slow, two other processes slow down at the same time. First, the process of shedding dead skin cells (called "desquamation) slows, and second, our oil production decreases. All of this together, makes thicker layers of dead skin cells which make skin feel rough, look dull and clogged, and makeup look heavier and cakier.
3. Why Exfoliate Daily?
We like to think about gentle daily exfoliation for skin health, just like we think about daily teeth brushing for gum health! Daily care goes a long way! Can you imagine how intense the trip to the dentist would be if you didn't brush your teeth every day?
Just like plaque builds up everyday, so do dead skin cells. It is important to keep up with their removal in gentle and consistent ways vs trying to remove thicker layers at one time with more invasive or aggressive treatments.
We believe that the best way to keep layers of dead skin as thin as possible and speed up the birthing of new baby skin cells is with gentle daily exfoliation techniques in between weekly, monthly, and professional treatments.
4. The Best Ways to Exfoliate Daily
If you are going to exfoliate everyday, there are some important tips to know. It is crucial to remember that skin is a living organ and over exfoliation can damage it.  That is why we encourage the most gentle options for exfoliation. It is important to curate a daily exfoliation routine that cares for the skin as you exfoliate and treats the skin very gently.
Natural Fibers is the most gentle form of physical exfoliation and we feel they are the only way to exfoliate daily. The two kinds of natural fibers that we feel are the most effective ways to remove daily dead skin build up and encourage new layers of living cells beneath are Cotton and Konjac fibers.
Keep reading to learn how to use Cotton and Konjac Fibers for daily exfoliation to increase your skin's natural glow!
Exfoliating with Cotton & Yuzu Oil Cleanser
Gross out alert!  Dead skin cells are like microscopic scabs.  They get dried out and stick to the skin underneath and need to be prepared for exfoliation. The best way to remove them is to rehydrate and plump them up with light weight, non-comedogenic plant oils. As we age and produce less oil naturally,  it is more important to use plant oils to aid in the removal of dead skin.
Once the oils have saturated the dead skin cells and unstuck them from the fresh skin underneath, they can be easily picked up and whisked away by the natural fibers of a dry cotton pad.  Our Yuzu Oil Cleanser has been specially created for this exact purpose.  It flawlessly removed eye and face makeup and prepares skin for cotton exfoliation in the evening.
Yuzu Oil Cleanser is an Eye & Face Makeup Remover that breaks down makeup and environmental debris, and loosens dead skin cells so the cotton fibers can pick them up. This process adds oil to the skin to aid in the gentle exfoliation of top layers of dead skin, while inflicting no irritation to living skin cells below. Yuzu essential oil is also a varietal of citrus that breaks up congestion deep in the pores.
Full Ingredients List:
Peach Kernel oil (prunus persica)
Camellia seed oil (camellia oleifera)
Rice Bran oil (oryza sativa bran oil)
Yuzu Essential oil (citrus junos)
How to Use Yuzu Oil Cleanser
Add 3-4 pumps of Yuzu Oil Cleanser to DRY fingertips.
Rub your fingertips together and then massage the oil onto DRY face and eyes for 1 minute. You will feel the oil begin to warm and the texture will become more liquid.
Wet 4 cotton pads with warm to hot water and squeeze them out. 
Take 2 of the cotton pads and wipe your face and eyes to begin lifting the oil, dirt, makeup, etc. from your skin.
Repeat with the other 2 cotton pads to remove all residual.
Throw away cotton pads.
Yuzu Oil Cleanser is used to remove makeup, debris, and dead skin cells. For best results, follow your oil cleansing ritual with your choice of our soap based Facial Cleansers for a refreshing double cleanse. Want to know HOW to double cleanse? Check out this post!
Exfoliating with Cotton Pads + Crème Nouveau
This technique is similar to using cotton with Yuzu Oil Cleanser because the butters and oils in Crème Nouveau rehydrate and plump the dead skin to be picked up by the cotton fibers too.  The main difference is that we suggest using this method in the morning to remove dead skin right before applying makeup for longer wearing, smoother makeup.  
Crème Nouveau is a nourishing moisturizer that is rich in botanical butters and oils. While the skin absorbs the butters and oils, they also loosen the dead skin on the surface. We suggest applying your Crème Nouveau, then wait 5 minutes, then wipe off the excess crème and dead skin cells away with a dry cotton pad.
Full Ingredients List:
Kokum Butter (garcinia indica seed)
Shea Butter (butyrospermum parkii)
Apricot Kernel Oil (prunus armeniaca)
Grape Seed Oil (vitis vinifera)
Organic, Plant Based Glycerin (glycerol)
Oils of:

Babassu (orbignya oleifera)
Argan (argania spinosa)
Black Currant (ribes nigrum)…
*Find full list of ingredients HERE.
How to Use Crème Nouveau
Place a pearl size of the crème onto your palm and rub palms together to warm the crème.
Press your palms onto your face, neck, and décolleté to transfer crème
Gently massage in to skin.
Allow the crème to absorb into skin for 5-10 minutes.
Before applying makeup, wipe the excess crème from the skin with the smooth side of a dry cotton pad. This will also provide a gentle exfoliation.
Use both morning and night on clean skin.
Exfoliating with Konjac Fibers + Cleanser
Konjac fibers are used to make Konjac Facial Sponges and are the perfect tool to pair with foaming facial cleanser for cleansing and exfoliation.  They create a very even cleansing experience and also gently lift off dead skin during cleansing.  They are safe for even the most sensitive skins and can be used every time you wash your face. 
Konjac Sponges are made from 100% konjac fibers that are similar to potatoes. They gently exfoliate, balance pH, and soften skin. They can be used daily with any of our facial cleansers and are beneficial for boosting radiance, clarifying texture, and can be used on even the most sensitive skin and delicate areas.
Our Facial Cleansers:
Shea Milk Bar Cleanser
Honey Rosewood Cleanser
Lemon Lavender Cleanser
Orange Grapefruit Cleanser
How to Use a Konjac Sponge
Your Konjac Sponge will arrive dehydrated and needs to be soaked in water to rehydrate.

To rehydrate: soak sponge in a bowl of warm water for 1 minute. 

Remove it from the water and squeeze it out. 

Place some cleanser onto the flat side of the sponge and massage sponge onto face, eyes, neck, & décolleté in circular motions. 

Rinse the sponge and wipe cleanser from skin. Squeeze the sponge out and hang it to dry. 

Rehydrate before each use. 

Use daily. 

Replace every 1-2 months.
Conclusion
The skin naturally sloughs off its own dead skin, but why not help it along a bit!  Using Cotton and Konjac Fibers daily to help support skin's natural exfoliation process will improve cell turnover, skin texture, and increase glow!